If you have already been part of our training program at SBSS and attended any of our training topic whether it would be past or recent time. And now interested in attending more from training us either as revision for existing training topic or any training on new topic.
Here is what we have for you to offer. Get enrolled for flat 60% price

Actual price of the training actual cost is 7000 INR.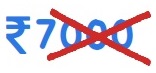 With discounting price you will get same benefits which you availed earlier. We at SBSS are grateful to all the students enrolled as training candidate and this discounting offer is a small return towards it. We are also thankful to all the students for showing faith in our teaching and faculty.
We believe, all of them LEARN and GROW.
Interested and want to know more contact us on 022-66752917 or ping us via chat given above.
*Please Note: Mentioned above discount is valid till if booked on or before 30th June 2017.
In order to avail discount pricing candidate must have attended training at SBSS atleast once before.